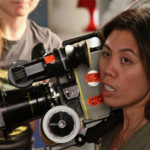 Sandra shot the indie guru Gregg Araki's latest feature White Bird in a Blizzard (a French-US production) starring Shailene Woodley, Eva Green, Angela Bassett, Shiloh Fernandez. and Christopher Meloni. It premiered at Sundance Film Festival 2014. Magnolia Pictures will release it in autumn 2014. Previously Sandra shot Araki's Kaboom which was an official selection at Cannes Film Festival 2010, Sundance Film Festival 2010 and released by IFC in 40 cities in the US.
Sandra's narrative work has been seen in festivals spanning across the world from SXSW to Cannes. Her critically noted films Fly Away, Acts of Mercy and Christmas in Compton are in release via VOD.
Sandra continues to shoot powerful stories in the realm of independent social and political narrative, as in Beyond Paradise, a drama cross-cultural love story executive produced by Gill Holland (Sweet Land, Hurricane Streets, FLOW: For Love of Water, Spring Forward, Loggerheads…) Beyond Paradise is directed by J. J. Alani (David & Layla.)
Sandra is also on the faculty for the American Film Institute Cinematography Department.
Sandra shot the last season of the popular MUN 2 Reality show, The Chicas Project, which brought Sandra across the country. Her camera has allowed her to be part of the political and socially conscience filmmaking of the "Brave New Films. " Her work on Street Knowledge 2 College was shown by PBS.org.
Sandra has been able to travel the world shooting in such locations as Paris for the relaunched MTV House of Style and Mexico for PBS Voices "Tales of the Masked Men" co-produced by Latino Public Broadcast and ITVS. Some of her other clients include Al Jazeera America, USC, MAX Films, TED, and Mastercard.
She got her start in documentary, working for an Emmy-award winning documentary cameraman, Tony Foresta, who taught her beauty of the image is found in simplicity.
After seven years as a camera assistant and operator, Sandra Valde decided it was time to pursue a full-time career as a cinematographer. She applied to the prestigious American Film Institute and was accepted into their MFA program in Cinematography.
While at AFI, Sandra honed her craft in the art of visual storytelling, learning from the master cinematographers and deepening her knowledge of light and composition. She has had the invaluable opportunity to mentor under Stephen Lighthill, ASC, Steven Poster, ASC, Larry Parker, and Alan Caso, ASC.
Since graduating from AFI, Sandra has been able to take her passion of cinematography throughout all mediums of storytelling.