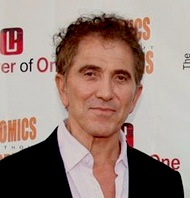 Based in Los Angeles, J. J. Alani aka J. Jonroy Alani also works in New York and Paris. Feature Film Director, Directors Guild of America (DGA) member and a Writers Guild of America (WGA) member in New York since 1996, Alani is the Writer/Producer/Director (as Jay Jonroy) of David & Layla, a political romantic comedy. (He dedicated David & Layla to the "Layla"s of the world and to his family members lost in genocide.)
His latest Written/Produced/Directed feature Beyond Paradise, a drama cross-cultural love story is distributed in North America by MarVista Entertainment; and World-wide by Cardinal XD..
Beyond Paradise was nominated for two Imagen Awards 2106: Best Actor Ryan Guzman) alongside Antonio Banderas and Mario Casas, and also for Best Actress Francia Raisa) alongside Juliette Binoche and Morena Baccarin.
See the genesis of Beyond Paradise story inspired by true events at http://beyondparadisemovie.com/about/directors-inspiration/
Alani tweets about World Cinema on Twitter @FilmFavorites. With thousands of followers, the site posts the Trailer plus a few hints of the uncommon recent & classic must-see movies of the world.
Official Selection at 28 international film festivals, David & Layla won 8 Awards, including Mons Festival International du Film D'Amour's Grand Prix du Public against La Vie en Rose, 2 Days in Paris and Lady Chatterley. ( http://www.fifa-mons.be/fr/accueil-festivals )
David & Layla received notable praise from the Nobel Laureate, Oscar nominee Screenwriter and acclaimed Playwright, Harold Pinter: "A bold, politically relevant film made against impossible odds." Plus, critical reviews in the New York Times, Variety, Washington Post, LA Times, etc.
Alani is the Executive Producer of Margreet, a story about the legend of Mata Hari set in Paris. It was officially selected to have its World Premiere at Cannes Film Festival 2015 Short Corner. Margreet is produced by Alani's PA Zoya Skya who also costars with Riley Smith in the film. [Iconic Hollywood star Greta Garbo played Mata Hari in the classic movie Mata Hari in 1931. ]
Alani is in development on a future independent movie entitled Amorous and two epic films inspired by man's first written epic poem, the 5000-year-old historical allegory Gilgamesh as two screenplays: Gilgamesh: Man's First Epic and Gilgamesh: In Search of Immortality.
He studied at The UCLA School of Theater, Film and Television (Adult Education), and at the USC School of Cinematic Arts (Advanced Screenwriting Practicum) in Los Angeles, 1985-1989.
Hollywood's largest studio, Time Warner/Warner Bros, as well as Netflix, iTunes, Amazon, Vudu, Turner Classic Movies, etc., continue distribution of David & Layla. Its music score is on 60+ international music sites, including on iTunes.
Following Creative Photography studies at the London Camden School of Arts, Alani worked briefly as a Fashion Photographer in London and Paris. He continues his interest in photography on Twitter @1PhotoDaily, and on Pinterest at J.J. Alani- Fashion Glam + Free Style + Haute Couture.
In Paris, he studied at the Sorbonne University, 1990-1994, receiving a "Diplôme Supérieur de Langue et Civilisation Françaises."
In New York, he coached graduate students at the Graduate Department of New York University Film School- Tisch School of the Arts on their final thesis projects, 1996-2000.
He served as volunteer Acting Coach at the Circle in the Square Broadway Theater School in New York, 1995-1999.
Earlier in England, he received a (B.Sc.) Bachelor of Science with First Class Honors in Science and Sociology at Leicester University, (D.I.C.) Diploma of the renowned London Imperial College (the oldest science college in the world), and (M.Sc.) Masters Degree in Cybernetics at London University.
In London, as a Marketing Executive with ICL, he worked with the creators of the Monty Python TV series, while at night he studied 'Acting, Speech, and Movement' at the 'City Lit'- the City Literary Institute.
A member of The Royal Photographic Society (U.K), Alani is also an amateur Art collector and a Patron of World Music Institute in New York.
He is the founder of "Human Rights For All- No Exceptions!" featured on Facebook and on Twitter @HRights4All, each with thousands of followers. These sites focus on female empowerment, equality, justice and equal human rights for the oppressed nations and the minorities of the world, including LGBT- Lesbians, Gays…
A dual American and British citizen, J.J. Alani was born in the Middle East. Fluent in English and French, he understands and speaks Spanish & Portuguese, as well as a few Middle Eastern languages, making a total of seven languages. He has lived and worked in Paris, London, Rio de Janeiro, San Francisco, Los Angeles and New York.
Save
Save
Save