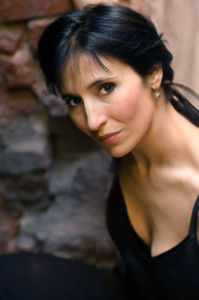 Award winning actress, writer and producer, Yareli Arizmendi is best known for her tour de force performances as "Rosaura" in Like Water for Chocolate and "Lila Rodriguez" in A Day Without a Mexican which she co-wrote and co-produced.
She plays the critical and principal role of Parissa in Beyond Paradise, a drama cross-cultural love story executive produced by Gill Holland (Sweet Land, Hurricane Streets, FLOW: For Love of Water, Spring Forward, Loggerheads…), and directed by J.J. Alani (David &  Layla.)
Her other films include: The Road directed by David De Leon both presently in post-production, Mariachi Gringo directed by Tom Gustafson, winner of the Guadalajara Film Festival 2012, América by Sonia Fritz with Eddie Olmos, Don't Let Me Drown by Cruz Angeles, Fast Food Nation by Rick Linklater and Naco Es Chido by Sergio Arau which she co-produced as well.
She has starred in numerous American episodic shows including House, Medium, 24, Six Feet Under, and Heroes and has lent her voice to many products, public awareness campaigns and audio books including The Alchemist, Like Water for
Chocolate, The Law of Love and Malinche.
Her work with Luis Valdez at Teatro Campesino and Teatro de la Esperanza with Jose Luis Valenzuela helped shape the socially conscious work to come. A partial list of those interviewed by her includes: Noam Chomsky, Jesse Jackson, Naomi Klein (The Shock Doctrine) Junot Diaz (Pulitzer Prize winner – The Brief Life of Oscar Wao), Lila Downs, Maria Hinojosa, Rigoberta Menchú, Amy Goodman (host of Democracy Now), and John Perkins (Confessions of an Economic Hit Man.)
Yareli is presently working on a novel entitled The Story of Y. A curious auto-biography which brings a bi-national, bi-cultural political and social reality into sharp focus through the eyes of a young girl making sense of it. A Cuban-Mexican born in Mexico City, Yareli received her BA in Political Science and her MFA in Theatre at the University of California, San Diego.