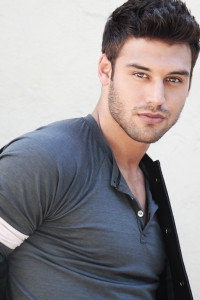 Ryan stars in the iconic writer/director of Boyhood (Multiple Awards winner & Oscar front runner) Richard Linklater's much anticipated film Everybody Wants Some, a spiritual sequel to Linklater's cult movie Dazed and Confused (1993.) Universal/Annapurna will release Everybody Wants Some on April 15, 2016.
Starring alongside Jennifer Lopez and Kristin Chenoweth, Ryan plays the titular role in The Boy Next Door, the Blumhouse erotic thriller. Directed by Rob Cohen, the movie continues distribution by Universal in US and Worldwide, topping many domestic VOD charts.
He also stars in Jem and the Holograms, a Universal worldwide release in October, 2015.
For the revitalization of NBC's Heroes Reborn franchise, Ryan joined its cast. The 13-episode Heroes Reborn will premiere on September 24, 2015.
Ryan is well known to the world's youth for his mysterious sexy role as the irresistible "Jake", a principal role, on the international hit ABC Family TV series Pretty Little Liars.
Lionsgate/Summit Entertainment re-cast Ryan to star in 'Step Up: All In" #5 of the Step Up franchise. Shot in 3D, it continues its international release. Lionsgate announced Ryan's starring #4 'Step Up Revolution' grossed more than $140M worldwide.
Ryan plays "Sebastian" the romantic leading role in the cross-cultural drama, Beyond Paradise, a bittersweet love story, executive produced by Gill Holland (Sweet Land, the Sundance Triple Awards winner Hurricane Streets, Spring Forward & Loggerheads) and written/produced/directed by J.J. Alani (David & Layla.)
Represented by a CAA team headed by Matt DelPiano, Ryan is managed by Tim Taylor, Luber Roklin Entertainment.
***
A successful model, Ryan Guzman sought out a talent manager and started the audition process for acting roles. A few months later auditioning for Step Up Revolution, he landed the coveted male lead, his first acting role.
He quickly followed with two indie projects: the action film that premiered on Showtime April Rain directed by Luciano Saber and There's Always Woodstock directed by Rita Merson.
A model and an MMA fighter, Guzman quickly caught the notice of Hollywood. He was seen in television commercials for Old Navy, Gillette, Candies and the Oprah Winfrey Network. A successful print model in San Francisco signing with LOOK Modeling Agency at the age of 18 and in Los Angeles, he joined the esteemed Wilhelmina Agency at age 22. He modeled for Abercrombie & Fitch, Affliction and Reebok among others.
Born in Texas and raised in Sacramento, Guzman never thought of becoming an actor.  At the age of 7, he developed an interest in martial arts and earned his first black belt in Tae Kwon Do by the age of 10. This led him into the octagon as a MMA fighter in Sacramento until his fighting license expired in 2010, while also continuing to model.  A gifted athlete, he was a sought-after left-handed pitcher with a fastball clocked between 87-90 miles per hour. When Guzman was still a teenager,  a shoulder injury ended this career dream .