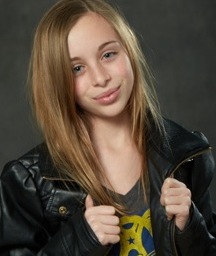 Born December 21, 2000, Olivia started taking classical piano lessons at the age of five and has been participating in Certificate of Merit and National Piano Guild competitions since age six.
Always musically inclined, Olivia began formal voice lessons at eight and is a soloist in her school's award-winning show choir. She is actively pursuing her dream as a singer and songwriter. Her debut album of original songs will be released in 2014.
Olivia has been performing in live theater in such roles as Annie, Miracle on 34th Street, Willy Wonka and performing competitively since 2010. For her portrayal of Wednesday Addams, she was recently chosen as part of the showcase performance at the Celebrity Dance Company's Nationals at Sea Competition.
Playing Sara in Beyond Paradise is Olivia's first film role.